Hot water high pressure cleaners
Dosanova can supply you with a wide range of high preformance high pressure machines in hot water version. For more information feel free to contact us at any time!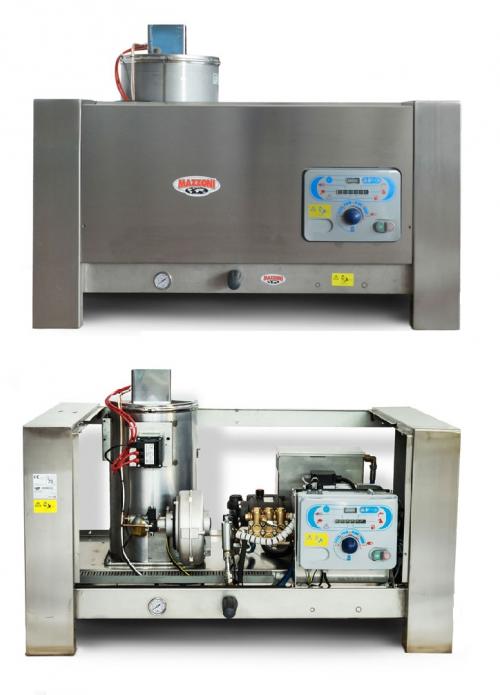 model WSF
The WSF hot water high pressure washer is suitable for professional use and has a stainless steel (1.4301) frame and cover, TST, SWL, DSS, SDL, a stainless steel boiler wit steel coil, flame control, leak detection, bypass valve with pressure regulator, dampener, internal hour meter, 10L stainless steel water tank. Optional it can be fitted with a remote control, external detergent kit, stainless steel rear panel, stainless steel fuel tank with level switch, stainless steel anti scale tank or chimney extension.
Code

Model

Flow rate

[l/min]

Pressure

[bar]

Power

[kW]

Electrical

Temp max
3.023.24.206
WSF3025
11
120
2,2
1x230V 50Hz
150°C
3.023.24.345
WSF3060
15
150
4
3x400V 50Hz
150°C
3.023.24.333
WSF4000
15
200
5,5
3x400V 50Hz
150°C
3.023.24.334
WSF4050
21
150
5,5
3x400V 50Hz
150°C
3.023.24.335
WSF5000
21
200
7,5
3x400V 50Hz
150°C
3.023.24.366
WSF5025
21
250
11
3x400V 50Hz
150°C
3.023.24.365
WSF5050
25
200
11
3x400V 50Hz
150°C
3.023.24.364
WSF6000
30
200
11
3x400V 50Hz
150°C