MPJET Air free foaming
The new ecologic and energy friendly cleaning system for all food applications.
This new user friendly cleaning system is specially made for the daily cleaning and disinfection in food production zones and other industrial applications.
The system is designed for water and energy saving without compromising on cleaning quality.
Video:
| | |
| --- | --- |
| 10% higher impact equation | 20% time saving |
| 50% water saving | 80% energy saving |
| 100% air free foam | 100% higher rinsing power |
| Up till 60 meter wash down hose | Automatic start / stop – standby |
| Automatic chemical dosing | Low maintenance |
The system only needs to be connected to standard electricity and water, no compressed air required.
Rinsing, foaming and disinfecting with 1 complete system
No piping and no air compressor required
Complete setup
This system is delivered complete, Delivery includes:
Stainless steel housing with booster pump and take-off station
Stainless steel hose reel with hose and gun
Rinsing lance, foam lance, disinfection lance and lance holder
Jerry can holder (2x25 liters)
Options:
The complete system can be mounted on a stainless steel frame with 4 wheels. This offers you even more flexibility because the whole does not have to be attached to the wall.
Installation:
Place the frame in the desired place/mount the components on the wall
You connect the system to power
You connect the system to a standard tap (hose is included)
Start cleaning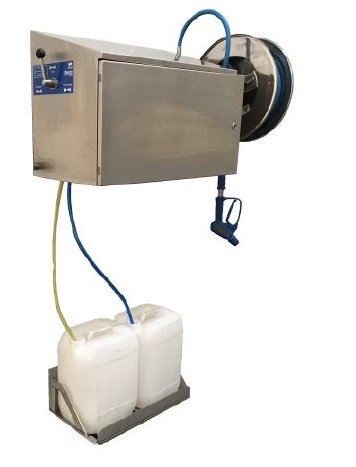 Question about this product?
Contact us
Main station MPJET dynamisch schuim
Het nieuwe ecologische en energievriendelijke reinigingssysteem voor alle voedingstoepassingen.
Dit nieuw gebruiksvriendelijk reinigingssysteem is speciaal gemaakt voor het dagelijks schoonmaken en desinfecteren in voedingsproductiezones alsook andere industriële toepassingen.
Video:
| | |
| --- | --- |
| 10% hogere impact vergelijking | 20% tijdbesparender |
| 50% waterbesparend | 80% energiebesparend |
| 100% drukvrij schuimen | 100% hogere spoelkracht |
| Tot 60 meter slang | Automatisch stoppen/starten – stand-by |
| Automatische dosering chemicaliën | Lage onderhoudskosten |
Het systeem moet enkel worden aangesloten op een standaard elektriciteitsnetwerk en water, er is dus geen perslucht nodig.
Spelen, schuimen en desinfecteren in 1 systeem
Er zijn geen leidingen en geen luchtcompressor meer nodig.
Volledige installatie
Het systeem wordt volledig geleverd en omvat:
Roestvrij stalen kast met boosterpomp en startstation
Roestvrij stalen slanghaspel met slang en pistool
Spoellans, schuimlans, desinfectielans en lanshouder
Jerrycanhouder (2x25l)
Opties
De volledige installatie kan op een roestvrij stalen frame gemonteerd worden. Dit zorgt voor meer flexibiliteit omdat het ganse systeem niet aan de muur bevestigd hoeft te worden
Installatie
Plaats het frame op de gewenste plaats/monteer de componenten aan de muur
Verbind het systeem met de stoom
Verbind het systeem met een standaard kraan (slang is bijgevoegd)
Start met schoonmaken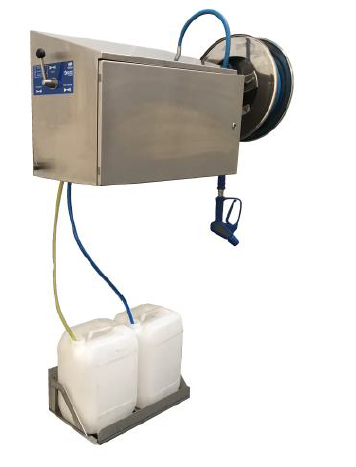 Question about this product?
Contact us