MPJET Air free foaming
The new ecologic and energy friendly cleaning system for all food applications.
This new user friendly cleaning system is specially made for the daily cleaning and disinfection in food production zones and other industrial applications.
The system is designed for water and energy saving without compromising on cleaning quality.
Video:
| | |
| --- | --- |
| 10% higher impact equation | 20% time saving |
| 50% water saving | 80% energy saving |
| 100% air free foam | 100% higher rinsing power |
| Up till 60 meter wash down hose | Automatic start / stop – standby |
| Automatic chemical dosing | Low maintenance |
The system only needs to be connected to standard electricity and water, no compressed air required.
Rinsing, foaming and disinfecting with 1 complete system
No piping and no air compressor required
Complete setup
This system is delivered complete, Delivery includes:
Stainless steel housing with booster pump and take-off station
Stainless steel hose reel with hose and gun
Rinsing lance, foam lance, disinfection lance and lance holder
Jerry can holder (2x25 liters)
Options:
The complete system can be mounted on a stainless steel frame with 4 wheels. This offers you even more flexibility because the whole does not have to be attached to the wall.
Installation:
Place the frame in the desired place/mount the components on the wall
You connect the system to power
You connect the system to a standard tap (hose is included)
Start cleaning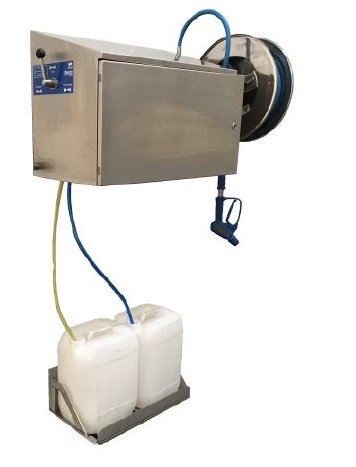 Question about this product?
Contact us